19 May 2020
Paper recycling industry raises the quality bar
Quality of recovered paper declining
A circular economy requires a greater focus on quality. Separating wastes only makes sense when the materials are actually recycled – and preferably to the highest possible standards. The DWMA is publishing a series of articles on the quality of waste streams. Part 6: recovered paper and cardboard.
Long-term monitoring by the Dutch industry association for paper recycling (PRN) shows that contamination levels in recovered paper and cardboard are rising. The latest preliminary result is a contamination level of 2.4%, which is 0.3% more than in 2018 and 0.8% more than in 2015. Director Hielke van den Brink names some of the worst offenders: plastics, polystyrene foam, textiles, drink cartons and packaging with food residues. Collection systems continue to be an important factor. 'Municipalities that operate a differential tariff (diftar) system perform worse than non-diftar municipalities. The dirtiest paper comes from communal underground waste containers and the smaller blue wheelie bins. The cleanest is waste paper put out for kerbside collection because it is collected by local clubs, churches and schools and there is a considerable level of social control.'
Hielke van den Brink (Dutch industry association for paper recycling PRN):
"The dirtiest paper comes from communal underground waste containers and the smaller blue wheelie bins."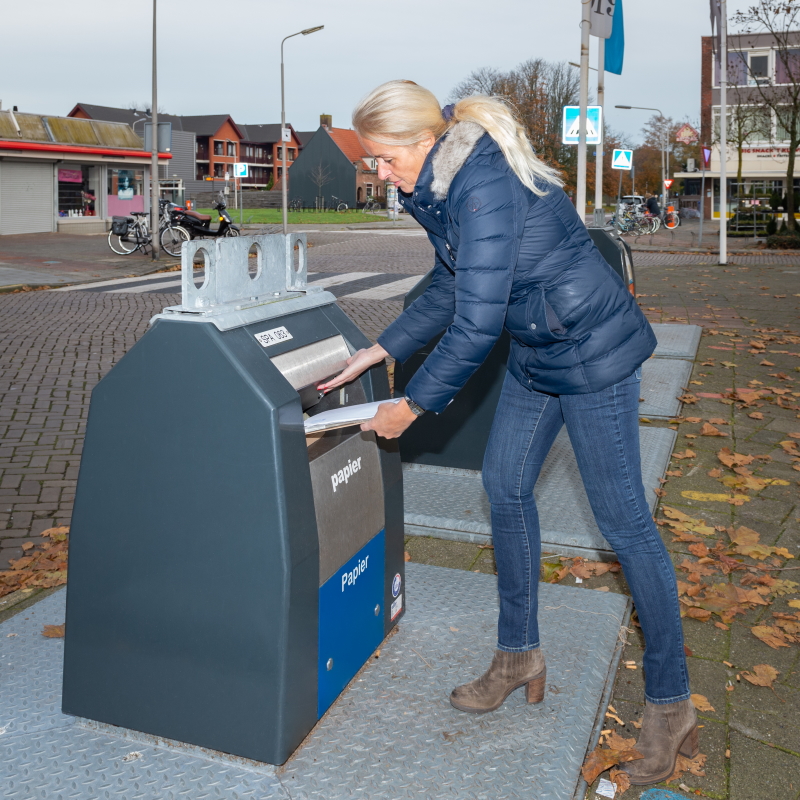 2.4% of collected waste paper is contaminated, 0.8% more than in 2015 (photo: ©DWMA / Wilma Helder)
Food packaging
The contamination percentage appears to be small compared to other waste streams, such as textiles and plastic, but the increase is a source of considerable concern to Hans Koning, director of the Dutch waste paper industry federation (FNOI). 'Recovered paper has to meet very strict quality standards, because most of it is used as a raw material for the manufacture of food packaging.' Koning blames the increase on the national and local government drive to reduce the volume of residual waste. 'We warned about this right from the start, saying it would lead to more residual waste in separated waste streams. Organic material in the paper bin contaminates clean waste paper, which is then no longer suitable for recycling and has to be sent to waste-to-energy plants. A terrible shame. Circularity can only be achieved by focusing on quality.'
Hans Koning (Dutch waste paper industry federation FNOI):
"If all parties get around the table and learn from each other's experiences, we will make progress."
Value chain collaboration
The paper fibre agreement signed in 2018 by PRN and the municipalities is all about quality. 'We tightened up the quality requirement from 5% contamination to 3% as a step towards the circular economy,' says Van den Brink. He urges the local authorities to uphold quality standards. 'If you have a diftar charging scheme, you need to introduce extra enforcement measures and better inform the public. The PRN has produced a waste paper guide listing what counts as waste paper and what does not.' Koning calls for more value chain collaboration. 'Improving quality requires localised or specific measures. Often the contamination can be traced back to a single underground bin or street. If collectors identify these sources, local authorities can target their public information and enforcement efforts. If all parties get around the table and learn from each other's experiences, we will make progress.'
Volatile market for recovered paper
In the meantime, the international recovered paper market has been fluctuating. In 2018 China and Indonesia considerably tightened their quality requirements, reducing the contamination limit to 0.5%, stricter than in Europe where paper factories accept material with contamination levels up to a maximum of 1.5%. Exports to Asia dried up, resulting in an immense European paper mountain and plummeting prices for recovered paper. This upheaval made it difficult for Guido Kramer, director of Veyzle, to sell recovered paper and cardboard to the factories, particularly the lowest quality material, a mix of cardboard and de-inking paper. 'The oversupply has made the factories more particular about the material they buy. For the same price they can get material of a better quality,' says Kramer. The current price war is actually leading to a reduction in quality, he asserts. 'It is no longer worthwhile for local clubs to collect waste paper from households, whereas that is the best quality material.'
Guido Kramer (Veyzle):
"Optimum sorting is becoming increasingly important."
Impact of the coronavirus crisis
The coronavirus crisis has had a considerable impact on the recycling market, including the recovered paper market. This article is based on the situation before the crisis. One of the effects of the measures taken to control the coronavirus is a decline in the amount of waste paper and cardboard being collected from households and businesses. At the same time the demand for recovered paper is increasing, partly because people are ordering more products online to be delivered to their homes. This change in supply and demand could push up the price of recovered paper. But even in this time of crisis, the focus on quality remains the same.
Optimum sorting
Veyzle sorts waste paper collected by its sister company Van Kaathoven and other collectors. Kramer is in a predicament: as long as quality keeps on falling, buyers will demand increasingly higher quality material. His aim is to reduce the amount of low quality mixed material and increase the supply of single streams. 'Optimum sorting is becoming increasingly important. Pure cardboard and pure paper give much higher returns than mixed materials. Many sorters are thinking of buying different types of sorting machines to replace the standard processes. We have always used screens and manual sorting, but are now thinking about robotisation, with laser sensing to detect different types of material. Innovation and investment are not made any easier by the multiple uncertainties we face, such as price volatility, fluctuating input streams and falling demand for flyers and newspapers.'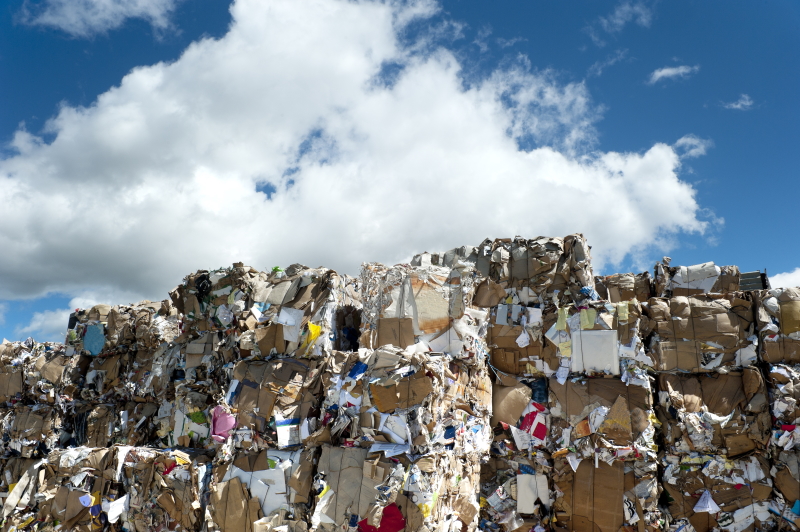 With a recycling percentage of 86% and a relatively high quality, the Netherlands leads the field in Europe
Torn cardboard
The amount of cardboard packaging is increasing due to the rise in online shopping and home deliveries, but it is hard to improve the sorting of this material. 'The lasers can detect the brown colour, but a growing number of online stores, such as Zalando, are using different coloured cardboard for their packaging. Moreover, people often tear the boxes up into smaller pieces so that they fit into the small wheelie bin.' The smaller pieces of torn cardboard are difficult to detect and separate in the sorting process. Kramer suggests some solutions: 'A flat box could be used for waste cardboard to enable people to store intact cardboard packaging at home.' Adapted wheelie bins could also help. 'Bins should be fitted with a standard opening big enough for paper and cardboard but too small for black bags of residual waste.'
Pat on the back
The market is good for the paper and cardboard industry. 'Despite the poorer quality of collected material, paper factories can buy in sufficient quantities of recovered paper at good prices,' says Corneel Lambregts, secretary of the Royal Dutch Association of Paper and Cardboard Manufacturers (VNP). He gives the waste paper value chain a pat on the back. 'The Netherlands is a champion at recovering waste paper. With a recycling percentage of 86% and a relatively high quality of recovered material, the country leads the field in Europe. In the United Kingdom they collect waste paper partly unsorted – 'co-mingled' with other recyclables. Those streams are contaminated.'
Corneel Lambregts (Royal Dutch Association of Paper and Cardboard Manufacturers VNP):
"What we want local authorities to do is to pay more attention to the quality of the paper that is collected than the quantity."
Dutch pizza boxes not in the paper bin
According to PRN's waste paper guide, food delivery packaging, such as pizza boxes, should not be put in the paper recycling bin. Milieu Centraal (practical sustainability tips for consumers) also says pizza boxes should not be put in the paper bin. But almost everyone does. 'Almost ten per cent of waste paper contamination consists of food delivery packaging. The food delivery market continues to grow,' says Hielke van den Brink of PRN. The Netherlands has stricter rules than in the rest of Europe. Corneel Lambregts of VNP: 'At the EU level it has been decided that pizza boxes can be put in the paper recycling bin – as long as they do not contain any food scraps. The fibres are useful.' Van den Brink says the Dutch decision reflects 'our desire to have a very clean waste stream.'
High quality paper
Lambregts observes that the proportion of 'graphical papers', such as flyers and newspapers, is gradually declining and the share of packaging material is growing. 'This shift is not helping the quality. The graphical fraction consists of high quality paper with longer fibres,' he explains. The call by Koning and Van den Brink for collaboration across the value chain is music in Lambregts' ears. 'We could tell the recycling chain what quality the paper and cardboard factories expect. They are also interested in processing certain fractions in specific plants. That requires coordination and innovation. What we want local authorities to do is to pay more attention to the quality of collected paper than the quantity.'
More complex materials
Meanwhile, all sorts of innovative paper materials are appearing on the market that do not make recycling any easier. Lambregts: 'New barrier properties are being added to paper so that it can be used instead of plastics. This is in demand because of the European ban on single-use plastic products. The additives make the paper impermeable to oxygen and water. These more complex materials can behave like plastics in the paper recycling process.' Van den Brink: 'The more compounds there are, the more difficult the recycling process becomes. That applies to tapes and glues as well. Designers and manufacturers must ensure that their packaging and products are easily recyclable.'
Measures to improve quality
Collectors and local authorities
Focus local waste policy more on quality than quantity.
Make quality a consideration in the choice of collection system. Ensure that only paper and cardboard can be put in paper recycling bins and not bags of residual waste.
Promote the waste paper guide.
Ensure adequate enforcement when contamination levels become too high.
Engage with recyclers and paper factories on value chain collaboration.
Sorting/recycling
Maintain high quality standards and only accept paper that meets those standards.
Work with collectors and local authorities to tackle specific sources of contamination. To that end, share information on quality.
Innovate and introduce new separation techniques to obtain larger and purer single recycling streams.
Engage with other parties in the value chain.
Manufacturers
Design products and packaging to be easily recyclable.
Innovate and look for opportunities for treating dedicated streams in specific plants.
Create new and bigger markets for recovered paper and cardboard. Use secondary raw materials in the manufacture of new products and packaging.
Engage with government authorities, waste collectors and recyclers.
Consumers
Separate waste paper and cardboard at the source and prevent contamination.
Be sure not to tear open cardboard packaging.