16 October 2019
Textiles recycling affected by increasing contamination
Quality of collected textiles falling
A circular economy requires a greater focus on quality. Separating wastes only makes sense when the materials are actually recycled - and preferably to the highest possible standards. The DWMA is publishing a series of articles on the quality of waste streams. This third article is on textiles.
Each year in the Netherlands around 75 million tonnes of textiles are collected for reuse and recycling. The quality of the material is declining rapidly, observes Roderick Ferrari, secretary of the Dutch textile recycling association Vereniging Herwinning Textiel (VHT). 'This has been most noticeable,' he says, 'over the past five years, when contamination levels have risen from 8% to 15%.' One of the reasons is the method of collection. 'Municipalities are installing more underground waste bins, including bins for textiles, but rain and groundwater often get into the bins; when they are emptied the water is distributed all over the clothes.'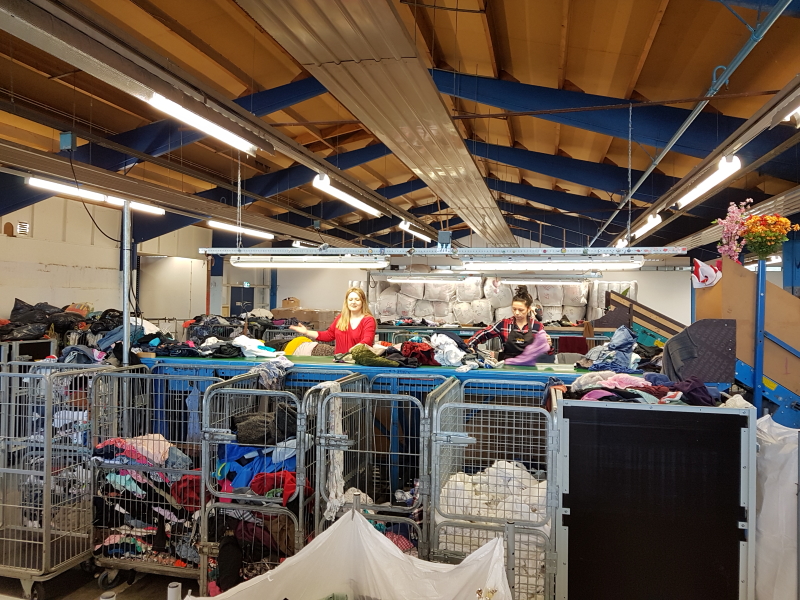 Underground bins, fast fashion and cost incentives such as DIFTAR (differential tariff systems) reduce the quality of collected textiles (photo: Sympany)
Evasive behaviour
Waste collection concepts such as DIFTAR (differential tariff systems), in which households have to pay for the collection of their residual waste, only make the situation worse. According to Ferrari, cost incentives lead to evasive behaviour. He describes the textile bin as the dumping ground for residual household waste. 'Bins for textiles and residual waste have the same size opening. It costs nothing to chuck your residual waste in the textiles bin.' Because underground waste bins are emptied mechanically, there is no control over the emptying process. Ferrari therefore prefers above-ground bins that are emptied by hand. 'That is what they do in Germany, where the level of contamination is nine per cent. Kerbside collected textiles are hardly contaminated at all, at most one to two per cent.' Ferrari says there is a lack of knowledge. 'Clothing and textiles are the also rans of waste collection; they receive scant attention from local authorities as well as households and businesses. For one thing, many people don't know that textiles should always be deposited in a tied plastic bag to keep them clean and dry.'
Roderick Ferrari (Textile recycling association VHT):
"It costs nothing to chuck your residual waste in the textiles bin."
Negative business case
Textiles recycling is being badly affected by a drop-off in quality. The reuse of rewearable clothing - the mainstay of the sector - is becoming increasingly impossible. The consequence is a negative business case. 'Textile recyclers pay considerable sums to municipalities for collection rights, but the winning tenders no longer reflect the value of the lower quality textiles being collected and these companies are now burdened with expensive contracts. In addition, the amount of residual waste going to the waste-to-energy plants is growing, which imposes an additional cost burden because of the increased waste tax.'
Textiles action plan
Under the recently published action plan on food-and-garden waste and textiles (Aanvalsplan gft-afval en textile, a publication of the 'From Waste to Raw Material' programme for municipal waste), several projects to improve textiles recycling are being implemented. These include meetings on quality, better rules for textile collection, and a uniform Yes/No list of the types of clothing and textiles that may and may not be deposited for recycling, accompanied by clear pictograms. The Dutch Waste Management Association (DWMA) welcomes the action plan and expects that it will make a contribution to raising the quality of collected textiles. At the same time, the DWMA draws attention to the effect of current waste policy, with its focus on minimising residual waste. This focus would appear to have a negative impact on the quality of collected waste streams, including textiles. The DWMA thinks the focus should lie on the separate collection of clean waste streams and argues for recycling targets for municipalities.
Quality first
The key to ensuring the quality of collected textiles lies partly with the municipalities. 'Municipalities must make quality a priority in their tendering processes. At the moment they are more interested in quantity than quality. They are also increasingly demanding a "social return". Sorting is a skill. If you leave it to people distanced from the labour market, it has implications for the quality of the sorted material. Some municipalities reduce the number of required sorted streams if there is a social return.'
Amsterdam city council acknowledges there is a problem with the quality of the three million kilos of waste textiles collected there each year. There are 235 textile bins distributed throughout the city, most above-ground, but also some underground bins as well. 'We are phasing out the current underground bins. Sympany, our textiles collector, has reported problems with contaminated material,' says Stef le Fèvre, strategic waste adviser at the city council.
Stef le Fèvre (Amsterdam city council):
"Amsterdam city council will pursue a circular procurement policy for textiles."
Change of policy in Amsterdam
The contract for the collection of clothing and other household textiles in Amsterdam expires at the end of this year. The new tender reflects a change of policy. Instead of putting income for charities and the council first, the priority now is creating a circular textile economy. Afval Energie Bedrijf (AEB) Amsterdam will provide the new collection service. 'Quality is key,' says Rik Pothuizen, team leader for raw materials at AEB. 'Amsterdam wants to collect more, but the textiles must also be as clean as possible. Old clothing and other textiles must be returned to the textile chain in as good a condition as possible.' Le Fèvre adds: 'We want to get more control over the sorting and processing and do something about the problem of the growing amount of clothing that is non-rewearable.' Eighty per cent of Dutch textiles are now sent abroad. 'What happens to them after they are sold, we simply don't know. We want transparency in the chain by doing as much of the sorting as possible here at home.'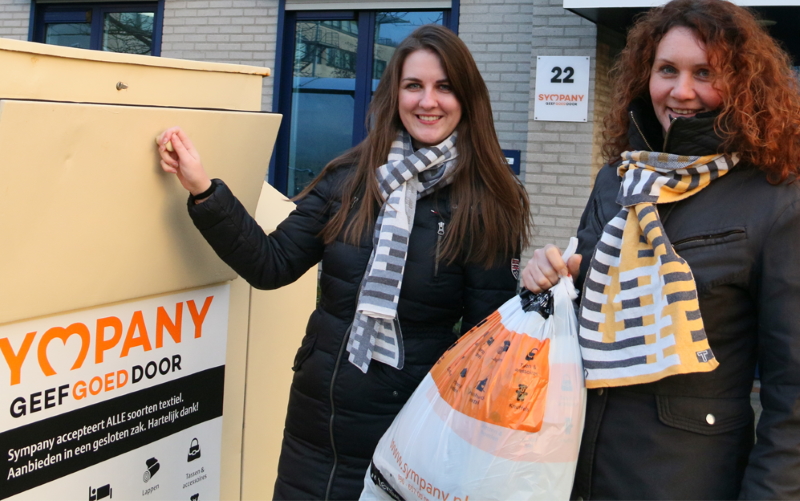 Each year the Dutch throw away 40 items of clothing, of which 9 are reused and 7 recycled (photo: Sympany)
Diversity of collection methods
Amsterdam is looking to the market for solutions. Le Fèvre wants to set up a broad mix of collection methods, with collection points at shops, schools, retailers, community centres and libraries as well as kerbside collection. 'A dense network of indoor and less anonymous collection points will help to improve quality. The council will also pursue a circular procurement policy for textiles, such as work clothing, and encourage other sectors, such as hotel chains, to reuse textiles.'
Tich Vanduren (Frankenhuis B.V.):
"Recycling is now often a case of downcycling."
Downcycling
Each year the Dutch throw away 40 items of clothing, according to a study by Amsterdam University of Applied Sciences. Nine items are reused (worn by someone else), seven are recycled and the rest are disposed of. 'Recycling is now often a case of downcycling,' says Tich Vanduren, partner at textile recycling company Frankenhuis B.V. The clothes it collects that cannot be reworn are shredded or pulled apart into fibres. 'At the moment we can mechanically recycle jeans and knitwear, but not the rest - shirts, winter coats, sports clothing. Our fibres are mainly used in the manufacture of insulation material for cars. That is a beneficial use, but not circular.' Frankenhuis is one of the Boer Groep waste collection and sorting companies. According to Vanduren, Boer Groep has noticed a drop in the quality of the incoming material. The textile recycler sets high quality standards for its sorters. 'If there is just one wet pair of jeans in a bale, we can no longer break the material down into fibres. The same goes for clothing with oil and paint stains.'
Fast fashion: shit in, shit out
Clothing is increasingly a throwaway product and fast fashion is taking advantage: rapid turnover of collections, rock-bottom prices, cheap production in low-wage countries and poorer quality. As a consequence, the amounts of non-rewearable textiles of low quality being deposited in clothing banks is increasing. The lower quality clothing wears out after just a few wear-and-wash cycles. Sometimes it is not even possible to break them down into fibres. Stef le Fèvre of Amsterdam city council sums it up pithily: 'Shit in, shit out.'
High-quality recycling
The textile recycling industry is not yet ready for higher collection volumes, argues Vanduren, certainly now the quality is lower. If clothes made of cotton, polyester, nylon or fleece are not rewearable, there is little that can be done with them. The industry is currently working hard to develop new techniques for closing textile loops and numerous initiatives for high-quality recycling are underway. Vanduren is involved in running a pilot plant for chemical recycling. 'Chemical recycling allows us to turn an old fleece into new water bottles. We are working closely with regional partners, such as Saxion University of Applied Sciences and Twente Milieu. Parties throughout the whole chain - sorters, researchers and processors - are taking part.'
Rik Pothuizen (AEB Amsterdam):
"Amsterdam wants to collect more, but it must also be as clean as possible."
Urgent letter to the state secretary
Last July the textile recyclers association VHT sounded the alarm. In an urgent letter* to Stientje van Veldhoven, Dutch state secretary for infrastructure and water management, the VHT draws attention to the rapidly falling quality of collected old clothing and other reusable textiles.
Creating markets
If new high-quality uses are to be found for recycled textiles, sorting and quality will have to improve. 'Frankenhuis B.V. will then be able to take on more residual streams for which there is currently no market,' says Vanduren. VHT secretary Ferrari also thinks that the key to improving recycling lies in better markets. He believes clothing manufacturers should take responsibility. 'If you want more collected textiles and less contamination, we have to create markets for the material. We think the government should set a minimum percentage of recycled textile in new fabrics as this will really stimulate the whole circular textile chain.'
Measures to improve quality
Collection
Choose a collection system that delivers the best quality. The preferred collection method is above-ground bins emptied by hand.

Where underground bins are used, ensure they are soundly constructed and installed, rainwater entry is prevented and they are emptied once a week. Make it absolutely clear that no residual waste may be put into the bins.

Textile bins should not be placed in 'vulnerable' locations, such as near cafes and markets.

Quality must be more important than quantity when assessing tenders.

Government authorities and the public should be better informed about textiles collection and recycling.

Find additional, local collection points, which should be in less anonymous, indoor locations.

Municipalities should know what happens to all the collected material. Monitor contamination, sorting and processing.
Sorting/recycling
Ensure that clothing and textiles are carefully sorted into a sufficient number of component streams.

Experiment with opportunities to improve the recycling process, such as drying damp textiles.

Deploy new recycling techniques that genuinely deliver high-quality recycling.
Clothing manufacturers
Design good quality, long-lasting clothing that can be reworn.

Adopt a standard percentage of secondary materials to be used in the manufacture of new fabrics. The government should demand this of manufacturers.
Buyers of textiles
Government authorities and businesses should adopt circular textiles procurement policies.

Through their buying choices consumers can create a bigger market for second-hand clothing and textiles containing recycled material.

Keep used textiles separate and deposit them in a clean and dry condition in the appropriate bin or put them out for collection.

Encourage the procurement of circular textiles by lowering VAT on clothes made of recycled material.
* The letter from the VHT drew on information contained in our article