18 May 2020
For recycling, mattresses must be clean and dry
Focusing on quality of old mattresses pays
A circular economy requires a greater focus on quality. Separating wastes only makes sense when the materials are actually recycled – and preferably to the highest possible standards. The DWMA is publishing a series of articles on the quality of waste streams. Part 5: mattresses.
Nanne Fioole, director of RetourMatras, the biggest Dutch mattress recycler, is convinced that successful mattress recycling is only possible if the old mattresses are clean and dry. About 1.5 million old mattresses are thrown away each year in the Netherlands, enough to fill the entire Johan Cruijff ArenA in Amsterdam right up to the roof. 'At the moment, about three-quarters of these are recycled,' says Fioole. He opened his first recycling plant in Lelystad ten years ago. His third plant, in Uden, opened in February this year. 'We sell 90% of the recovered materials. Textiles from the mattress ticking goes to the textile industry, the steel goes to the metal industry and we reprocess the foam into bonded foam. The remaining 10% consists of pieces that are glued together and materials such as horsehair and coconut fibre. These materials are usually from very old mattresses.' Besides RetourMatras, Matras Recycling Europe also has a recycling plant in the Netherlands.
Nanne Fioole (RetourMatras):
"Right from the start I have only ever accepted dry mattresses in closed containers."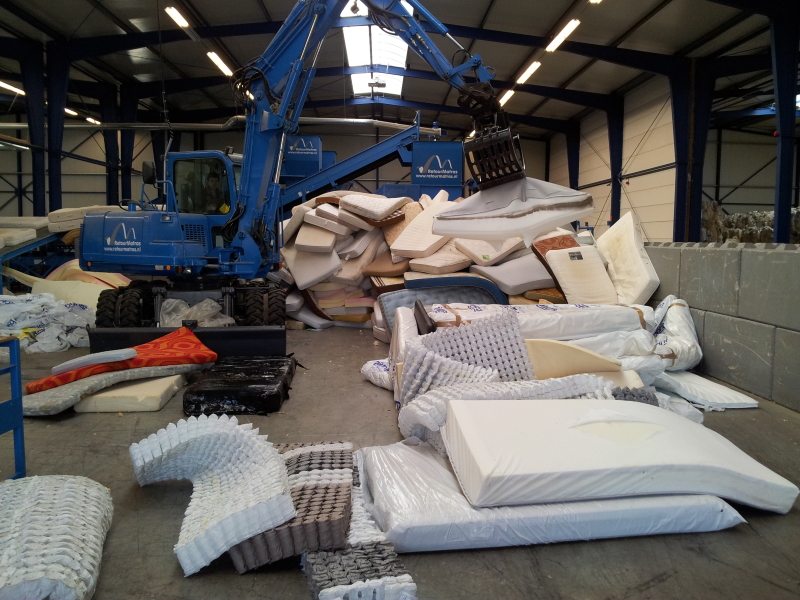 Mattress recycling depends on old mattresses being clean and dry (photo: RetourMatras)
Strict acceptance policy
Both recyclers maintain a strict, but unequivocal acceptance policy. Fioole: 'Right from the start I have only ever accepted dry mattresses in closed containers. The odd stain is OK, but the mattresses must have been recently slept on, so to speak. Those are the mattresses we want. The rest we reject.' This focus on quality has meant the company ran for eight years at a loss. 'We have gone through very lean times when we didn't get any mattresses at all, not only because of our strict quality requirements, but also the high reprocessing costs. Municipal authorities preferred to use open containers. They have a statutory obligation to collect mattresses separately, but sent them to waste-to-energy plants because it was cheaper.'
Heat and gas
Despite this, Fioole did not relax his quality standards. 'If mattresses are wet or dirty, we can't reuse the raw materials. They're useless. Besides, damp mattresses start to heat up because of bacterial action, just like a damp haystack. Gas is released and the mattresses become highly flammable. In the past there were many mattress fires. Wet mattresses also stink terribly as they start to rot.'
Mattress recycling in the spotlight
Fioole's determination is now paying off. A short time ago the dry and clean mattresses started rolling in. He gets them from household waste recycling centres, hospitals, holiday parks, prisons and mattress retailers. 'Nowadays waste-to-energy plants are not keen on accepting mattresses as their calorific value is too high.' This means that they have to be shredded before they can be incinerated. Also, the foam in mattresses causes problems in the ventilation system. Delivering them to recyclers is now cheaper than incineration. What also helps, says Fioole, is the circular policy now being pursued by government and the industry in which mattress recycling is given a prominent place. 'Virtually all municipal authorities now send mattresses from their household waste recycling centres in the right condition to mattress recycling plants. I only have to reject a container about once every three months.'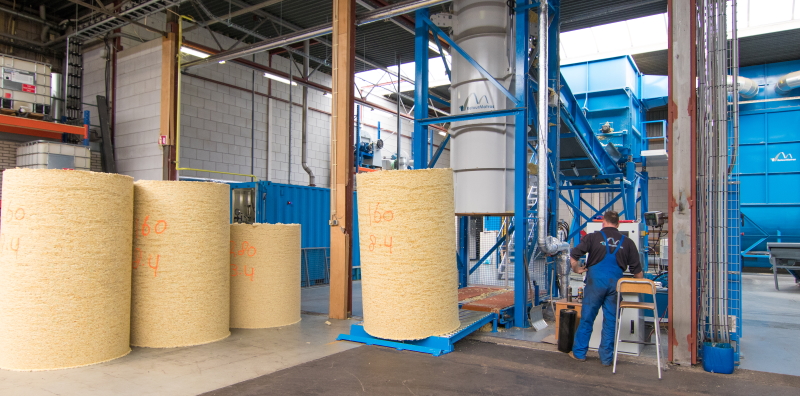 RetourMatras works with Hecmar to produce new products from the foam (photo: RetourMatras)
Mattress playground
The hurdles RetourMatras still faces are now on the sales side. 'We often have difficulty finding buyers for the raw materials we recover as we face competition from virgin materials. We now use the foam to make our own product.' This product is made jointly with Hecmar. Martijn Bentvelzen, director of Hecmar: 'We use the polyurethane foam to make shock-absorbent sheets for playground surfacing and other uses. They are made in the RetourMatras plant by compressing the foam in cylinders. Our product, Aslon refoam, comes in three thicknesses and hardnesses. We have been supplying these products since the end of last year.' Bentvelzen thinks it is an ideal product for municipalities with circular procurement policies. 'The collected material is returned to the municipality in the form of recycled material – quintessential closed-loop recycling.' Hecmar also sells Aslon refoam as an underlay for artificial grass in gardens and is developing underlays for carpets and laminate floorings. For Bentvelzen, quality is essential. 'The foam is delivered to us in a pure form. We've got the quality side of things well under control.'
Martijn Bentvelzen (Hecmar):
"Our product is ideal for municipalities with circular procurement policies."
Power of ecodesign
Ecodesign presents opportunities to improve the quality of recycling, says Mark Groot Wassink, who works at Auping on the circular transition. Ten years ago the bed manufacturer started to take back old mattresses and have them recycled. Now the company is taking the next step: a circular mattress, which is available to hire from its subsidiary Bedzzzy. 'We are working on a fully closed recycling loop. This begins with the design of the mattress,' says Groot Wassink. One of the challenges was the adhesive between the layers of foam, which leads to the loss of much of the material during the reprocessing. Auping called in DSM to find an answer. 'They developed a binding agent from a pure polyester which can act as an adhesive, but breaks down when heated. Our circular mattress is modular in design and so the separate components can easily be taken apart again.'
Mark Groot Wassink (Auping):
"A fully closed recycling loop begins with the design of the mattress."
Producer responsibility
A form of producer responsibility is currently being developed to bring about closed-loop recycling of mattresses. The measure will help to improve the business case of companies engaged in this process. Nanne Fioole of RetourMatras expects that this will lead to an increase in recycling capacity, and also boost quality. 'The proceeds will pay for a good recycling infrastructure, including clean and dry collection, ecodesign and information for consumers. The advantage is that the whole mattress value chain is now sitting round the table. We visit each other's factories and plants and learn from each other.'
Circular mattress filling
Auping went in search of a circular mattress filling. Groot Wassink set extremely high quality standards. 'We wanted pure monomaterials that we can reprocess to the same level of quality for use in new mattresses. We replaced the foam with a polyester, which has proved to be not only circular, but also the most breathable material we have ever made. Our ultimate aim is to switch to polyester across the full range of our mattresses. The rental model means that we can keep control over the materials and can guarantee that the mattresses come back to us.'
Gap in the mattress life cycle
A quarter of all Dutch mattresses that are thrown away go straight to waste-to-energy plants. 'Most of those mattresses are put out on the street to be collected as bulky household waste,' explains Arnold Mulder of ABN AMRO, author of a recent study on mattress recycling. On the street they can become wet and dirty. The street is 'the gap in the mattress life cycle,' says Mulder. 'Mattresses put outside for collection, about 370,000 each year, often go in the same container as the rest of the bulky waste. As these mattresses are contaminated, they cannot be recycled.'
Better information
ABN AMRO asked a representative group of consumers this question: Why do you put your old mattress out on the street and not take it to the household waste recycling centre yourself? Three-quarters of respondents said transportation was the issue, half said that it was 'easier' and a third thought, incorrectly, that they would be charged a fee at the recycling centre. Mulder understands the choices people make. 'If you can put your old mattress out on a Monday morning, that's obviously the easiest option.' He suggested a number of solutions for cleaner collection. One option would be not to include mattresses in bulky household waste collections and prohibit putting them out on the street. 'Municipalities could require people to take their old mattress to the household waste recycling centre. Another option would be for municipalities to collect mattresses separately, although this would be costly. Better public information would also help. Many people don't know that mattresses taken to the household waste recycling centre are actually recycled.' Various manufacturers, such as IKEA and Auping, take old mattresses away when they deliver new ones, which saves a trip to the recycling centre.
Arnold Mulder (ABN AMRO):
"Many people don't know that mattresses taken to the household waste recycling centre are actually recycled."
Measures to improve quality
Collection
Provide closed containers for mattresses at household waste recycling centres and check the quality of the mattresses.
Municipal authorities should consider door-to-door collection of mattresses and ensure they are not put out on the street.
Inform people that they should take mattresses to the household waste recycling centre or other collection facilities in a clean and dry condition.
Sorting/recycling
Maintain high quality standards and only accept mattresses that are clean and dry.
Innovate and ensure good quality separation of secondary raw materials.
Where there is no market, work to create potential high-grade applications.
Mattress manufacturers
Design mattresses to ensure the best possible separation and recycling of the materials.
Provide return systems to take back old mattresses.
Use your producer responsibility to close the mattress life-cycle loop.
Users of mattresses and secondary raw materials
Create new and bigger markets for materials from old mattresses. Government authorities should work to promote and facilitate circular procurement.
Municipal procurement policies should prioritise circular products made from old mattresses.
Consumers should hand in old mattresses separately in a clean and dry condition.