5 April 2017
Annual Review 2016 of the Dutch Waste Management Association
The Dutch Waste Management Association (DWMA) publishes its Annual Review 2016 today. It takes the form of a timeline showing the main events and activities by the DWMA and relevant events and developments in the Dutch waste management industry over the past year.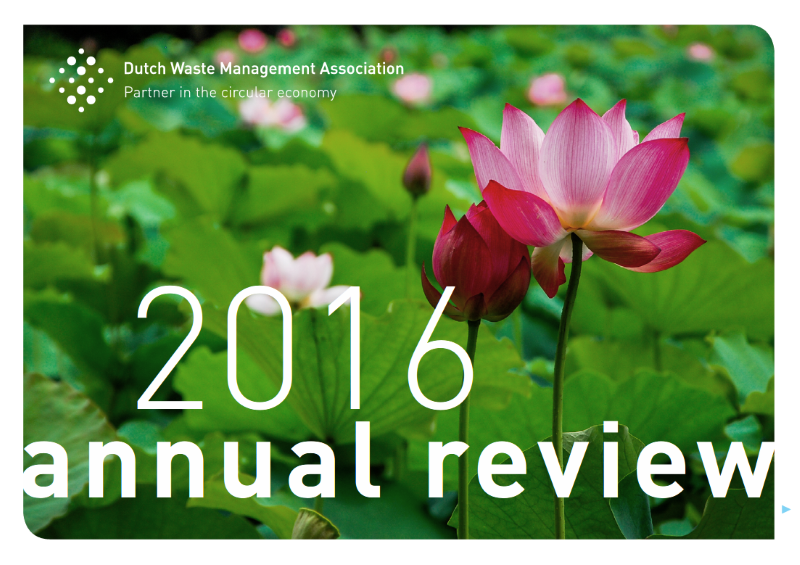 In 2016 the DWMA devoted considerable effort to making inputs to the revision of both EU and Dutch waste policies. The Association argued vigorously for a shift in focus from the quantity to the quality of waste collected and recycled and for stimulating the market demand for secondary raw materials. A particularly noteworthy event in 2016 was the signing of the first international Green Deal to stimulate the market for secondary raw materials. 
Green Deal on the North Sea Resources Roundabout
In March 2016 the Netherlands, Flanders, the United Kingdom and France signed the International Green Deal on the North Sea Resources Roundabout. The aim is to harmonise policies for certain resource streams to simplify their cross-border trade. The first materials to be included in the Green Deal were bottom ash, compost and PVC. Struvite was added in September. 
Quality above quantity
In the view of the DWMA, the main focus of government policy should not be on the quantitative waste collection statistics, but the quality of the collected material and the markets for the recycled materials. The key to making the transition to a circular economy lies in keeping materials in the value chain for as long as possible and at as high a quality as possible as well as creating markets for high-quality secondary raw materials. Government can stimulate these markets by adopting sustainable procurement practices. The waste sector produces materials of the desired quality at competitive prices and with the security of supply demanded by its customers.
Boris van der Ham (President DWMA):
"We have to invest in 'pull' measures that are driven by market demand."
Revision of policy 
Together with its members, the DWMA submitted a consultation response to the draft of the third National Waste Management Plan. Over the past year reactions to the review of EU waste policy have mainly concerned the calculation method and point of measurement for recycling. With the Dutch government, the DWMA is investigating a new export duty system that is both feasible and enforceable under EU law.